Slovakia 3-Italy 2: Slovakia Through, Italy Sent Packing
June 24th, 2010 | by: Paul |

View Comments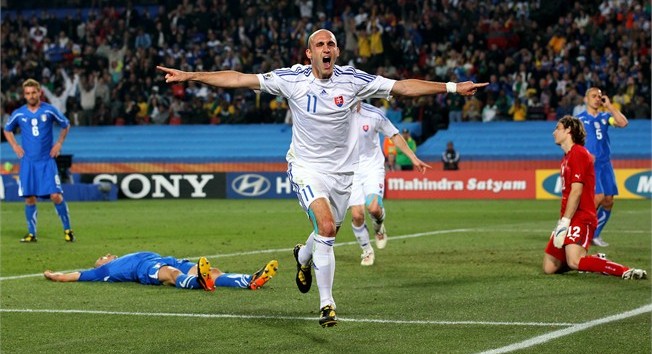 Slovakia have done it!
With today's win over Italy, Slovakia finish second in Group F to Paraguay, and are through to the next round (likely agains the Netherlands).
Today, things finally came together for the Slovaks, while the Italians continued their poor play. Marek Hamsik (finally) showed up to play, providing some good defense and some nice deliveries. In defense, Skrtel was a rock in the back and barely rescued a goal right on the line. And then was Robert Vittek, who put in a tremendous performance to score two goals and did a great job at beating Italian defenders physically. Vladimir Weiss (the elder) seemed to have finally realized how to properly play his team, and it paid off.
Despite the positives, I am disappointed with three things:
1. The fact that Vladimir Weiss didn't play- he had been the only offensive player in the previous two matches who was consistently a thread. Luckily, the rest of the team stepped up enough so that he wasn't needed.
2. Jan Mucha- Mucha didn't look like himself this game, and actually looked rather angry. Had the Italian player who he punched not acted, well….Italian, he would have been carded. He did what he had to do today, but never looked quite on top of his game. Again, the attitude didn't help
3. The final few minutes of the game were nervy. Slovakia's players were clearly tired and, I would say that is half the reason for their staying down for a long time toward the end. It was a bad time to become weary, as Italy finally woke up. Luckily for Slovakia, it was too late for Italy.
And that's all for now! Congrats to Slovakia and good riddance to Italy (never liked them much)- even if the Slovaks fall in the next round, we can still consider this day a resounding success.
Video Highlights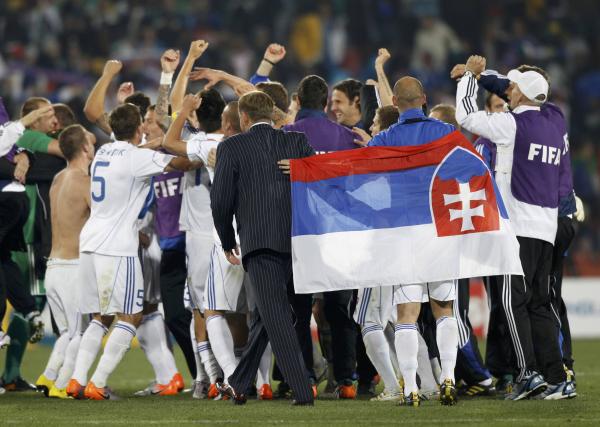 Subscribe

Slovakia World Cup Team Blog RSS Feed

Share
blog comments powered by Disqus